magic jase
Junior Member
Member # 6999


posted
---
NODISKO'S BANK HOLIDAY F*CK-UP
Bank Holiday Sunday 27th May @ Hub

We're getting stuck into the summer season at Hub - a secretive East End venue with two huge rooms, a floor-shaking 20k Turbosound system and all-night licence. And we've invited some of our favourite electro beat-makers from the continent along for the ride.

Like kindred cousins the DFA, Gomma Records make smart electric music for your ass. The hugely respected European label is home to Tomboy, Daniele Baldelli, In Flagranti, WhoMadeWho and Diskokaine; and they're launching their superb new comp 'Gommagang 4' (released on 21st May) at Nodisko. Gomma head honchos the brothers MUNK will be entertaining us with their anachronistic take on house, electro, techno and avant dance in a rare London DJ set, while hotly tipped label newbies RODION fly in from Rome for a full live show – which has already been tearing the roof off of clubs in their native Italy.

In the second room we welcome one of France's fastest-rising stars KAVINSKY. Daft Punk's tour DJ of choice, he's released two awesome EPs ('Teddy Boy' and '1986') of noirish, 'Vice City'-inspired electro and Moroder-esque synthetic disco. He's also one of the coolest kids to emerge from the Ed Banger stable. Hot stuff for sure – and the same goes for young tirks SKULL JUICE, leading lights of London's daring new wave of electro clubs. Modular love them, Adventures In The Beetroot Field love them, Bugged Out! love them - and we're loving them massively too. Together resident (and a regular Nodisko shape-thrower) MIKE OMAN also gets in on the action.

It all adds up to one monster all-nighter...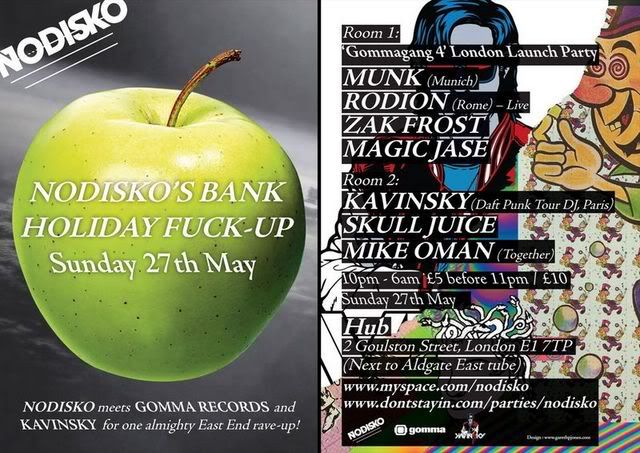 Room 1: 'Gommagang 4' London Launch Party
Munk
Rodion (Rome) - live
Zak Frost
Magic Jase

Room 2:
Kavinsky (Record Makers, Paris)
Skull Juice
Mike Oman (Together)

Hub (formerly the Sub Club), 2 Goulston Street, London E1 7TP
(Next to Aldgate East tube, end of Commercial Street)

10pm - 6am
£5 before 11pm / £10

http://www.myspace.com/nodisko
http://www.dontstayin.com/parties/nodisko

http://www.myspace.com/gommarecords
http://www.myspace.com/munkfromgomma
http://www.myspace.com/r0d10n

http://www.myspace.com/kavinsky
http://www.myspace.com/skulljuice
http://www.myspace.com/iamdangermike

--------------------
www.myspace.com/djmagicjase
www.myspace.com/nodisko

---
IP: Logged